Peggy Doris Hawkins, better known to 'the world' as Margaret Keane, died from heart failure on June 26, 2022. Born September 15, 1927, this amazing and inspiring woman now rests in peace and paradise.
The extraordinary story of Ms. Keane, who became a Jehovah's Witness and in recent years continued to paint and sell her work at auctions and at her Keane Eyes Gallery in San Francisco, has been retold in books, magazines and on the internet in a resurgence of interest sparked by the Tim Burton film "Big Eyes," released in 2014, with Amy Adams as Ms. Keane and Christoph Waltz as her husband.

Artist Margaret Keane was known for creating distinctive paintings of large-eyed figures. She was married to Walter Keane and was dismayed to find that Walter was taking credit for her work. Over time he also became abusive, and Margaret eventually divorced him. She revealed herself as the creative force behind the Keane paintings in 1970 and later won a court case in which she sued her ex-husband for defamation.

Margaret was living a life of increasing misery, with the public continuing to believe her husband's charade. Walter, who was a drunk and philanderer, was also emotionally abusive, often keeping Margaret locked up in a studio with nothing to do but paint. His abuse eventually reached its crescendo when Walter threatened her and Jane's lives. But Margaret finally found the courage to take her daughter and leave, divorcing Walter in 1965. She later remarried and settled in Hawaii, and also became a Jehovah's Witness.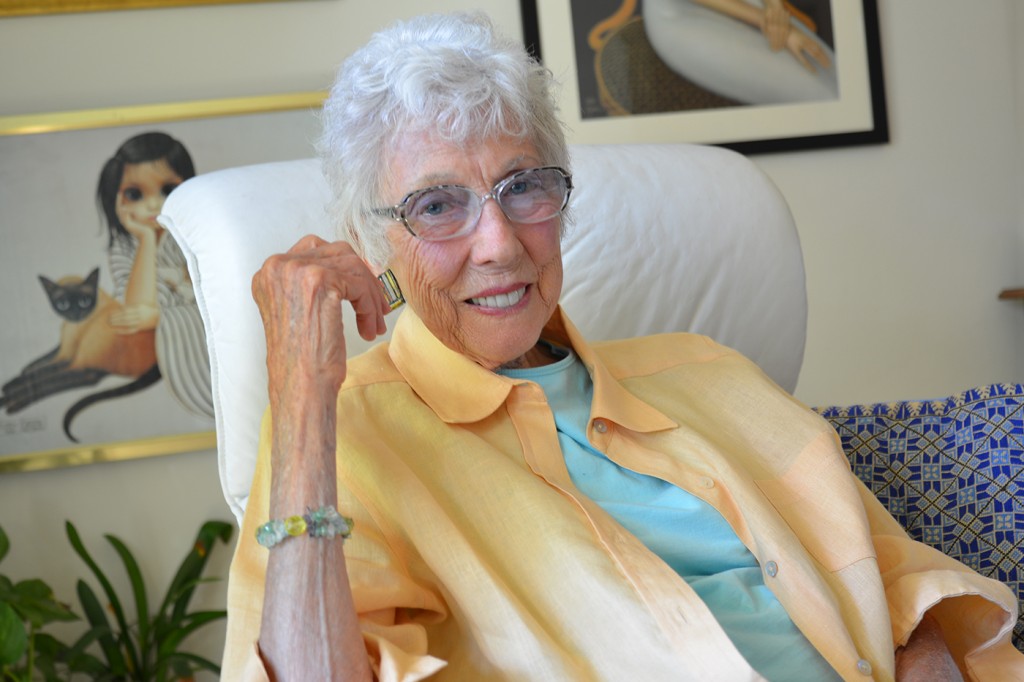 Margaret Keane Obituaries
Born in 1927 in Nashville, Tennessee, Margaret has always loved to paint and draw since an early age. She first made her paintings famous in San Francisco's North Beach in the 1950s.

Margaret's work drew little accolades from art critics but was loved and admired by the world. Andy Warhol said, "I think what Keane has done is terrific! If it were bad, so many people wouldn't like it." Margaret went on to become one of the most successful living artists in the early 60s to present day.

Margaret's art gained wide favor and started a big-eyed movement in the early 60s, influencing a large crop of big-eyed artists such as Lee, Gig, Maio, Ozz Franca, Igor Pantuhoff, and Eve. Margaret has created a legacy of Big Eyes influencing many toy designs and cartoons, such as Little Miss No Name Dolls, Blythe dolls the cartoon Powerpuff Girls, created by Craig McCracken. And more recently numerous illustrators, New Contemporary and Pop Surrealism artist such as, Yoshitomo Nara, Mark Ryden, and Tim Burton.

One of Margaret's favorite artist is Amedeo Modigliani, and His art has had a major influence in the way she's painted women since circa 1959. Throughout the years Margaret has also been influenced by Van Gogh, Henri Rousseau, Leonardo da Vinci, Gustav Klimt, Edgar Degas, Picasso, Sandro Botticelli and Paul Gauguin. Each of these artists have influenced Margaret's use of color, dimension and composition. Along with these great and awe inspiring artists, Margaret's own creative genius of Big Eyes and women has continued to influence and inspire countless artist today.

Adored by fans and collectors Worldwide, at 94 years old, Margaret continues to paint almost daily in Northern California. Margaret is one of the most prolific and influential artists ever, and is an American Icon and Modern Master. Enjoy over 60 years of timeless art as you browse our website and experience Margaret's labor of love.

Margaret Keane profile, The Keane Eyes Gallery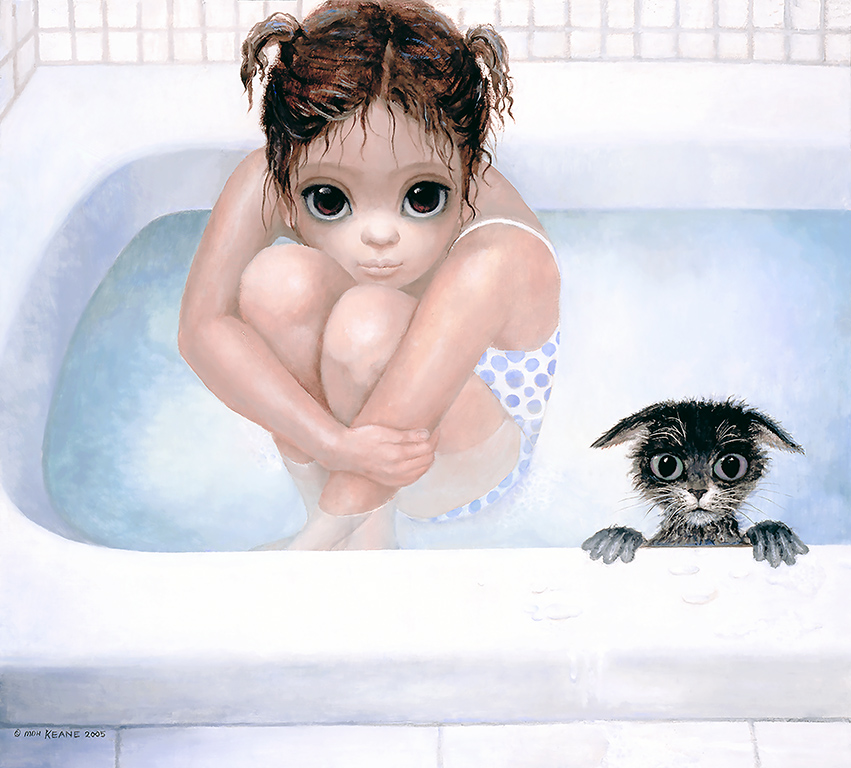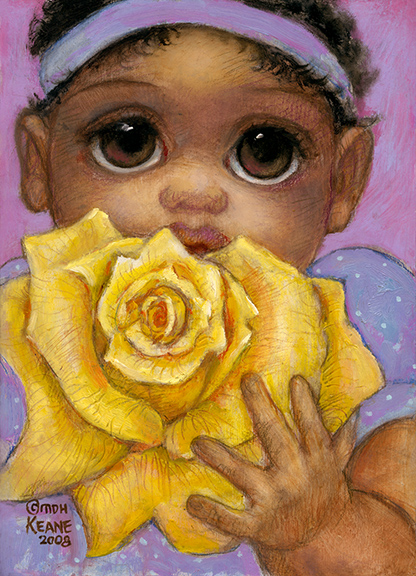 Walter Keane claimed to paint the Big Eyes until his death

He told LIFE Magazine, "Nobody could paint eyes like El Greco and nobody can paint eyes like Walter Keane."

For years, Walter Keane was known as one of the most commercially successful artists of the 1960s. His paintings of waif-thin girls with eyes four times their normal size were dubbed "the most popular art now being produced in the free world" in a 1965 LIFE story. But Walter Keane, it turns out, couldn't even paint. It was his wife, Margaret, who was really creating all the "Big Eye" paintings and kept Walter's secret after he threatened to have her killed.

Excerpts from "The True Story Behind 'Big Eyes,'" via Time.com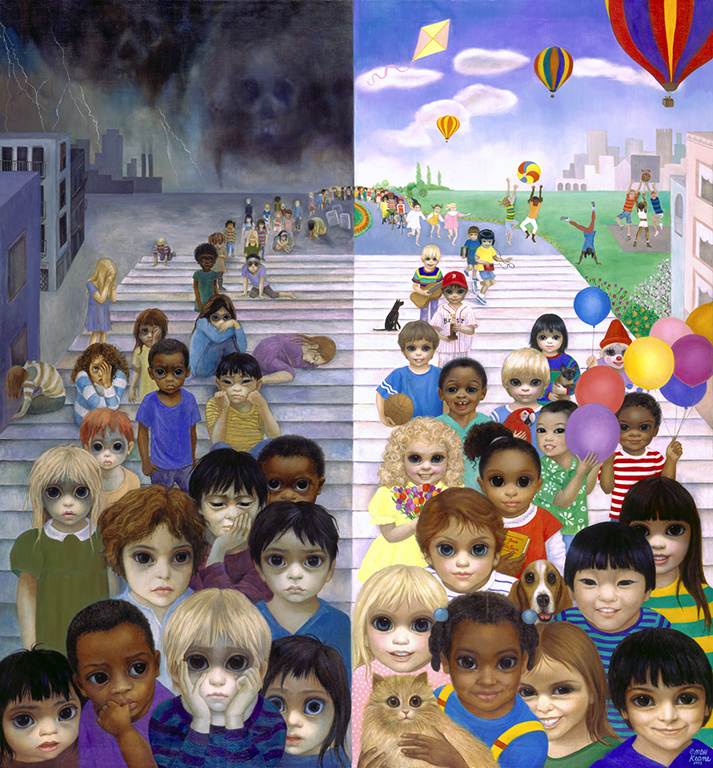 Watch Margaret Keane as depicted by Amy Adams in the Tim Burton movie, "Big Eyes."
According to Biography.com, "[Amy] Adams met with Margaret [Keane] to better understand who she is as a person and to study her creative process. Margaret, for whom watching the film was an emotional experience, saw a new wave of interest in her work since its release, displaying her work at the Keane Eyes Gallery in San Francisco."